Neil's Two All-Porcelain Crowns
Neil has been a patient at Dove Family Dentistry for the past 13 years. During that time, he had multiple crowns and fillings placed. Most recently, Neil wanted to address his three front teeth. The two top front teeth had discolored over time due to staining of fine fracture lines in the teeth and decay around the existing fillings. The chipped edges had been repaired/ smoothed in the past but due to the constant wear, Dr. Vantramp recommended two, all-porcelain, and crowns to match the crowns already in place on either side. The bottom tooth had a prior root canal done and was frail due the lack of tooth structure remaining after the decay was removed. Dr. Vantramp was able to match the adjacent teeth beautifully and Neil could not be happier with his brighter, more youthful new smile.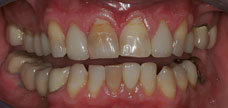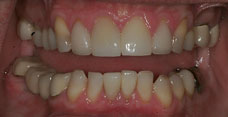 Scott's Smile Transformation
Scott was unhappy with his smile due to the chipped teeth, open spaces and darker shade. Eight porcelain crowns and veneers were placed to create a cosmetically pleasing smile. Scott now loves his smile.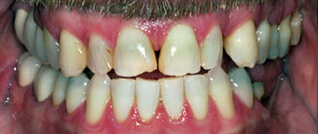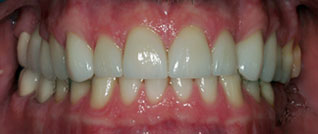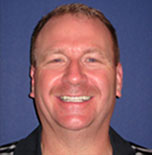 "Wow! What can I say? I am so excited about the results of all of my dental work at Dove Family Dentistry. The staff is by far the best group of professionals I have ever dealt with in any medical office. The attention given to me and my family goes way beyond normal practices. Dr. Vantramp has a winning team and the final results that I now have allow me to smile in a way that prior to this work embarrassed me. Thank you again for your expertise and awesome staff." – Scott
Sydney's Smile Transformation
Instead of going through the orthodontic process, Dr. Vantramp was able to cosmetically align Sydney's upper anterior teeth. Her uneven smile line was corrected with eight, all-porcelain crowns. Her lower teeth were recontoured to correct the uneven height until more definitive care in the future.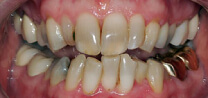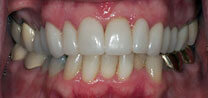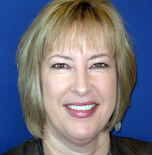 "Over the past 15 years, I have received great treatment at Dove Family Dentistry. When I decided to have cosmetic work done, it was one of the best decisions I have made! I am so excited and happy with my new smile and could not be more pleased with my dental care as I was having the work done. Thank you so much Dr. Vantramp and staff!" – Sydney
Kristi's Smile Fix
Kristi fell down the escalator while at work, severely damaging her front teeth. The trauma she experienced damaged the roots of her teeth, requiring two extractions and the placement of one implant. Four crowns were placed and gum grafting was done to restore her original smile.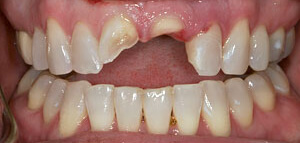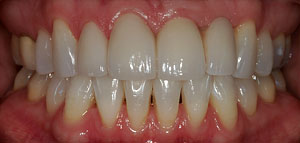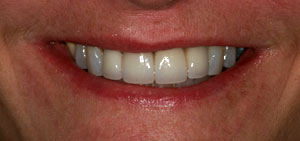 Annie's Orthodontic Treatment
Annie completed orthodontic treatment but needed to cosmetically enlarge her peg laterals to finalize her beautiful smile. Dr. Vantramp placed two porcelain veneers to close the spaces and to even out her smile line.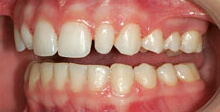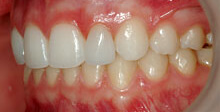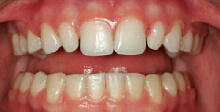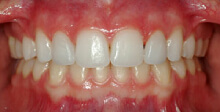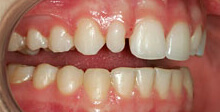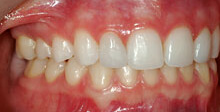 Kathleen's Smile Transformation
Kathleen had many composite (tooth colored) fillings throughout her mouth. Over time, these fillings became chipped and discolored. Dr. Vantramp recommended veneers as a more conservative way to enhance her beautiful smile. In the past, Dr. Vantramp had put porcelain crowns on her molars. When Kathleen was ready to restore her front teeth, we were easily able to match the existing work by taking a custom shade. In the end, Kathleen decided to have five empress veneers and one porcelain crown done and is now happier than ever with her new smile.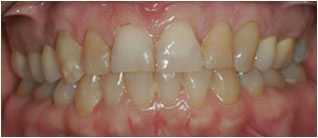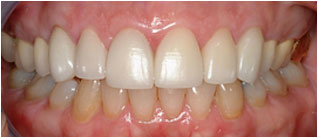 "I had many discolored and cracked front teeth. Dr. Vantramp suggested veneers. Now they look so much better. I was concerned that they would get loose, but I even eat corn on the cob with no problem. I am very glad that I had them fixed!" – Kathleen
Nick's Scaling and Root Planing
Nick had not had his teeth cleaned in 4-5 years. He was brushing once per day and rarely flossing. This allowed tartar (plaque that has hardened) to build up on his teeth both above and below the gumline. On the before picture, the veneered tartar and plaque can be seen on the teeth, making them look textured. This build up caused the gum tissue to be red and swollen.
It took several appointments of a procedure called "Scaling and Root Planing" (commonly referred to as a "deep cleaning") to clean this patient's teeth. In the after picture you can see how smooth and white his teeth look. By brushing 2 times per day, flossing regularly, and coming in for regular maintenance visits, Nick will have healthier gums and a brighter smile.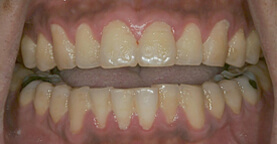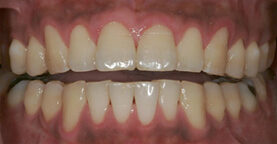 Ron's Porcelain Crown
Ron had old composite (white) fillings placed years ago at previous dentist. Over the years with wear and tear, those old fillings wore down and became brittle. Ron chipped the edge of his front tooth, leaving a jagged discolored smile line. Dr. Vantramp decided to take a more conservative approach and did a ¾ porcelain crown to preserve as much natural tooth structure as possible. Ron decided to do both front teeth for better symmetry and cosmetic appearance. A custom shade was taken for a perfect color match and the end result was a happy patient with a beautiful smile.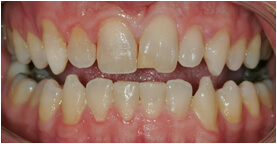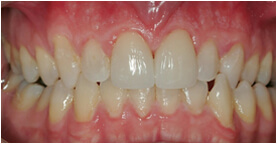 Sally's Two All-Porcelain (no metal) Crowns
Sally originally had crowns placed on her two front teeth over 20 years ago. She was unhappy with the recession and discoloration that had developed over time. Dr. Vantramp and Sally agreed that the best treatment option would be to replace the existing crowns with two all-porcelain (no metal) crowns.
Sally decided to bleach her teeth before her crowns were made so that they would match the brighter smile she wanted to have. We had a custom shade selected to best match her natural tooth color. In just two weeks she had a beautiful new and confident smile!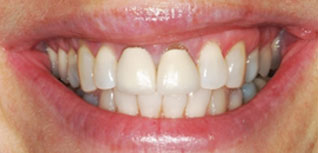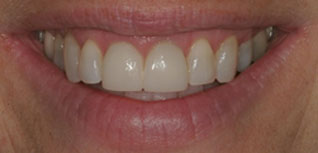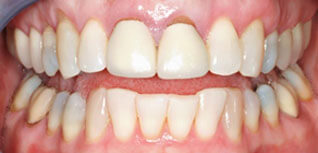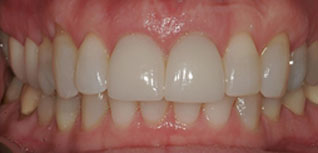 "I love my teeth! I used to avoid smiling as much as I could, but now I smile all I want. Thank you!" – Sally K.
Neil's Smile Transformation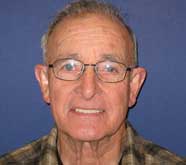 Around 15 years ago, Neil came to Dove Family Dentistry wanting to improve the aesthetics of his teeth. He had a lively smile but did not like the shape and spacing of his teeth. Neil was also concerned with the severe wear on his teeth. He was happy with the fit of his upper and lower partials but was worried he may lose the rest of his teeth if he did nothing.
Neil was not interested in proceeding with implants, so he and Dr. Vantramp sat down and came up with a treatment plan that would best suit his needs.
Neil's bite was opened by adding (5) new teeth to his existing partial so that (6) new porcelain crowns could be made in the front to improve his smile and appearance. Composite bonding was also added to his lower front teeth to fill in the areas of wear.
Dr. Vantramp was able to take an extensive treatment plan and modify it so that it was attainable for Neil. He now smiles with confidence and because of the positive experience he had at Dove Family Dentistry, he has referred many of his friends and family to us.